Temp-Proof 333
Specific advantages
Excellent thermal insulation in wet, oily or steamy conditions
Good resistance to oils, greases and hydrocarbons
Applications
Other industries
Boiler room work
Handling of hot steel after welding
Heat treatment up to 250°C (autoclaves, etc.)
Steam cleaning
Steel quenching
Rubber industry
Vulcanization, demoulding, forming, etc.
Standards
Product detail
Material
Nitrile
Colour
Black
Interior Finish
Knitted thermal protection
Exterior Finish
Length (cm)
32
Thickness (mm)
Heavy Wt.
Size
Packaging
1 pair/bag
6 pairs/bag
12 pairs/carton
Thermal Protection
A double-layer glove, with thermal insulation and extended length for extra arm protection.
Thermal Protection
Effective thermal insulation and resistance to a wide range of chemical
New
Thermal Protection
Flexible Thermal Protection with impact and cut protection
To contact us
If you would like to ask us a commercial question about our products or if you would like to have more technical information about our gloves and their use, please fill out one of the forms proposed below.


Documentation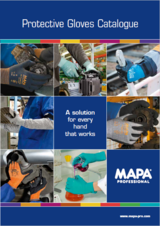 All documents